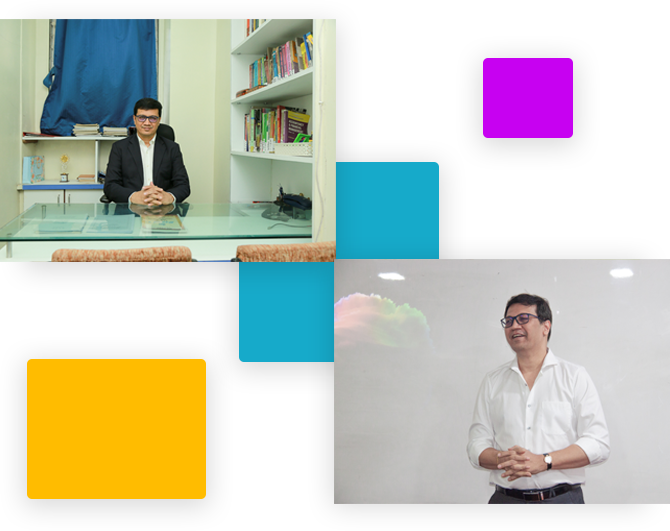 About
Change is The End Result of All True Learning
Saumil's is a comprehensive coaching institute for commerce. We have been catering to commerce stream students since one and a half decade in various streams of commerce and self finance courses.
Reviews
What Our Students Say
"I choose to learn from the best". I have always loved the sessions since the day I joined. The teachers here are great. They are compassionate and caring towards students and their education. Besides learning, there are many other fun activities like, sports curriculum, festive celebrations, picnics, etc. Students are always excited to be a part of these movements. I found many good friends here. I very much appreciate everything all of my teachers have done for me including the last minute revision as & when needed. They guide us down the right path. Each student here is destined for a great future. I am proud and happy to be a "Saumilian".
I would really like to thank Saumil Commerce Classes for giving me the best available education. I have been with Saumil's from past one year only but it feels like a bonding of life time here. As the tag line says "where learning is fun" it is really fun. We enjoyed learning at Saumil's. All the faculties here are very sweet and kind and it's our good fortune to have got teachers like them. It's been one of the best classes I have ever attended in my life. Thank you.
I, would like to share my experience with Saumil Classes for helping me in improving my performance and develop interest in studies. Before joining Saumil's I had tried few other classes but wasn't really comfortable elsewhere. I got in touch with Madhuri ma'am who has now become my guide and mentor, she was polite, helpful & answered all my Silly Questions and that's when I started feeling comfortable and began trusting Saumil's. Teachers here are excellent. Any queries raised by the students are solved by the respective teachers immediately. Indeed these are the best teachers I have ever come across in my life who gave the best tips and put in full efforts and devoted loads of time to each and every student.
I am a student of Hinduja College. I found that Saumil Classes are the best for Class 11th and 12th. I developed interest in studies after I joined here. All the teachers are very supportive and highly experienced and have a very intense knowledge in their own subjects. They help by providing a very good quality of study material and by conducting tests frequently. My concepts would get cleared in the class only. Ronak sir and Milind sir were always there for help. Sanjay sir taught his subject with so much fun. I recommend everyone should join Saumil Classes.
It's difficult to start with a comment when one knows that your words are not enough to describe the actual glory of a coaching class known as Saumil's. When you look at Saumil's its no less than a Treasure Island. Be it faculties, non teaching staff or the students, Everyone's company makes your Journey delightful. My experience with Saumil's has been for the past two years and it's been a resounding success for me. Regular lectures, proper tests, all have contributed a lot towards my studies. In here you will find a comfortable environment to nurture yourself and study with fun in a relaxed manner. The faculties give their best and do not make syllabus a burden. Personally I would suggest if you are looking for Quality Education, don't wander around just take all subjects under one roof at Saumil's. Thank you.
I had an amazing experience with Saumil Classes. As the tag line itself suggests, where learning is fun. All the faculties made sure that the lectures was interactive as well as interesting. It really helped me prioritize my Educational life. The gratitude for the class and the teachers cannot be elaborated in words..... I won't hesitate to recommend Saumil's to all of my friends.
I am so glad to express my view towards a great Coaching Experience. It was really a wonderful experience to study at Saumil's as perfect attention was provided to each and every Student. Learning was an enjoyable experience and the Faculties are Experts in their respective subjects. This helped us to get an in-depth knowledge in all subjects but for me special was Accounts. Thank you so much. I am proud to be a student of SAUMIL CLASSES.
My experience with Saumil Classes was awesome. The teachers here are really helpful and teach each subject concept wise. This made my life easier. Also regular tests are conducted which are really helpful. Teachers are friendly and teach the basics.